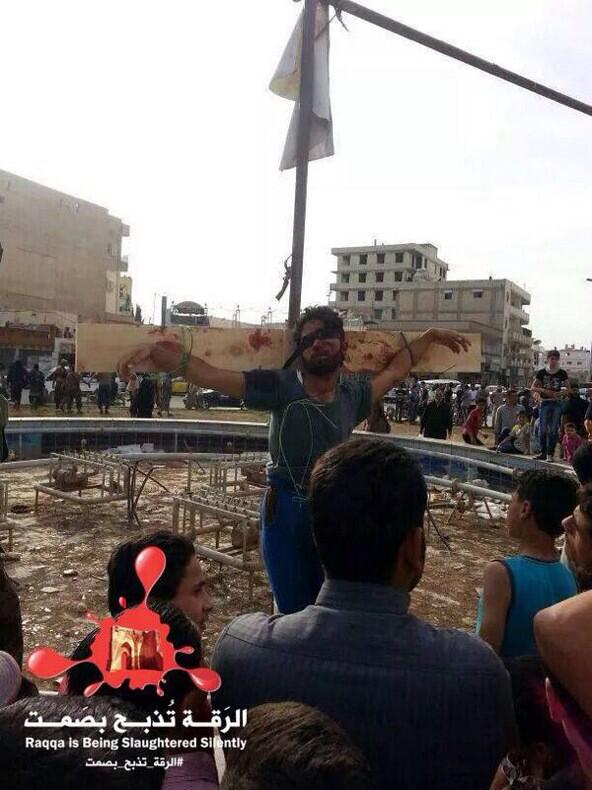 ISIS crucified 7 people in Raqqa #Syria accused of 'trying to kill ISIS leaders'. Pic of one crucifixion @akhbar –> pic.twitter.com/8Md5wwds5F
Vandaag kwam via een bron op Twitter het gruwelijke nieuws dat ISIL 7 mensen hebben gekruisigd in Raqqua, wegens ongehoorzaamheid aan de leider van ISIL.
Hoe kunnen de westerse regeringen, waaronder ook Nederland, nota bene de PVDA, die een linkse visie zou hebben, deze criminele daden toezien en zoals vorige keer bij Turkije, KESSAB, waar hij Timmermans, minister van Buitenlandse zaken, alleen reageerde met ach we hebben niet genoeg bewijzen. In godsnaam hoeveel bewijzen hebben ze nog nodig, zovele zijn er te vinden, op Internet, zelfs Syriërs in Nederland, die elke dag geconfronteerd worden met de dood van hun familieleden, door onthoofdingen, ontvoeringen, doden in het leger, aanslagen zoals vandaag op de stad Homs. Wanneer houd deze waanzin op, of moet het nog erger worden en escaleren hier in Nederland, als de moslimbroeders terugkeren van hun JIHAD in Syrië ???